Yeah, I know, it sounds weird, but hear me out. Back in high school, I was very into this Japanese show called ToraDora. It was cute, sweet, and very emotional. In one episode, for dinner a character made "omurice," or rice omelettes. I was intrigued by the idea, and I loved the show, so I immediately set out to learn how to make it so I could try it.
On the most basic left, a rice omelette is what it sounds like. It's an omelette, but instead of cheese or spinach or ham in the center, you have ketchup-fried-rice (KFR is a popular dish in japan). Now, there are multiple ways to make an omelette (who knew), but I stick with the more Western version of basically an eggy-burrito.
The first time I made it, I decided to make ketchup-fried rice from scratch, which turned out to be a total chore, but amazingly delicious. There's something about the texture of rice that goes really well with egg (Maybe it's because it hides the texture of the egg, which I'm usually not a huge fan of).  Now I pretty much only make this whenever I have rice from something else left over. It's a good weekend breakfast/lunch, because it doesn't take a lot of time, and it's very filling.
Considerations:
Vegetarian/Vegan: Depending on the fried rice you're using, this dish is already vegetarian. I'm not sure if there currently exists anything out there to act as a vegan scrambled egg. Sorry!
Gluten Free: Rice and eggs are naturally gluten free, but some fried rice has soy sauce in it. If you don't already have a favorite fried rice, just add some cooked rice with some butter and your favorite vegetables to a pan, and heat it all up until the flavors combine.
What you need: fried rice, eggs, salt and pepper, milk (optional)
The hardest part is making the base of the omelette. If you get that down, you're golden. prepping the eggs is pretty much like scrambled eggs, crack eggs into a bowl, add salt and pepper (and milk if that's a thing you do), and whisk with a fork until the eggs get bubbly. I don't use a whisk. My mother taught me to make scrambled eggs with a fork, and I think it tastes better that way, so that's how I do it.
To give yourself the best chance at an easy omelette, use a non-stick pan with just a little bit of butter.
Put the pan over just-over-medium-but-not-quite-medium-high heat, and once the butter is melted, pour in the eggs. Now comes the hard part. You must wait. You don't stir anything, you don't flip, just wait. If your fried rice was in the fridge, heat it up while you wait.
Once most of the egg on the bottom of the pan is cooked, you take your spatula and gently scooch an edge of the omelette in, and tilt the pan so any liquid egg on top will run into the pan-space you just made for it. You won't get all of it, that's okay. The rest of the egg will cook once you roll into an omelette shape.
Once you see that most of the egg is cooked, add your fried rice in the center, and now it is time to roll. The easiest way is to just put all the filling to one side of the pan so you can just fold your omelette in half and slide it onto a plate. If you're feeling industrious, you can fold it like a letter, folding one third of the egg over the middle, and then folding again toward the last third and onto the plate. I have found you a convenient GIF to demonstrate.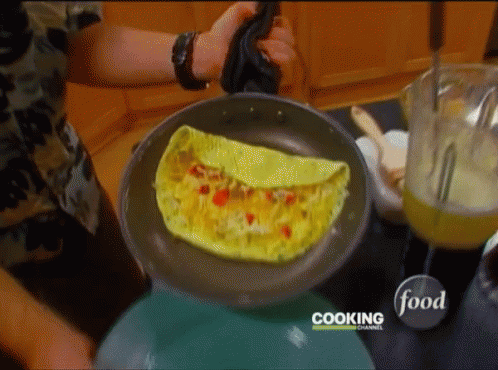 What you may want: ketchup, hot sauce, sour cream (or greek yogurt), Japanese mayo
Traditionally, Rice Omelettes are eaten with ketchup, and maybe Japanese mayo, which is sweeter than classic Helmann's.
Depending on how sweet or dried out the rice filling is, I might add hot sauce and sour cream instead. Today I went with ketchup
Cost: This is a dirt cheap meal. If you're not someone who orders take-out often, they sell microwavable fried rice in the grocery store for like $2, and that amount makes 2-3 omelettes, depending on how stuffed you like them.
Time: I call this a 5-minute meal, once you get the omelette technique down and if you already have the fried rice. You mostly have to be patient with the eggs. If you're really just hungry and not picky about presentation, you can turn this into a 3-minute meal by just making scrambled eggs and topping with your fried rice.
Dishes: Dishes are pretty minimal for this too. You have the pan you cooked in, the bowl you scrambled the eggs in, whatever you ate off of, and utensils. You might have to wash a storage container from your rice.